Best Dermatologist in Karama, Dubai
Dermatology is a branch of science that specializes in identifying, examining and treating the range of conditions affecting skin, hair and nails. Dermatologists are medical experts who are skilled in treating various skin, hair and nail defects. They are also trained in correcting skin, hair or nail issues by cosmetic or surgical procedures.
Dermatologists treat all age groups and have medical solutions to treat age-related skin conditions. Dermatologists are known to enhance beauty and help patients get rid of their skin conditions by providing them right treatment. With the advancement of technologies and medical experiments, the dermatologists can easily diagnose, plan and execute the procedures according to patient's need.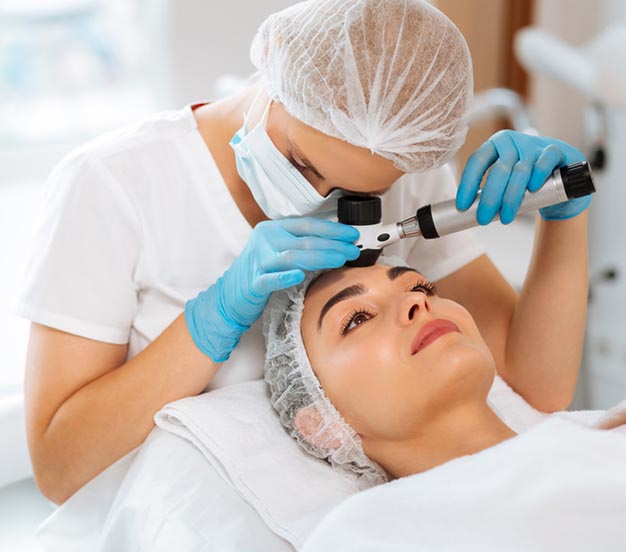 A dermatologists can treat many varieties of skin conditions and can detect pre-cancerous moles or skin conditions. Common to chronic skin allergies, disorders related to blood vessels, varicose veins, skin disorders like psoriasis, dermatitis and psoriasis are some of the other ailments treated by Dermatologists.
Dermatologists can clearly study the symptoms of the skin, detect the root cause and prescribe medicines or advanced treatments, procedures for the particular condition.
Our dermatologist is also experienced in Venereology which is a branch that deals with diagnosing, examining and treating disorders that can be transmitted through sexual contact.
Dermatologists use variety of methods or procedures to treat skin and related conditions which include medications, laser techniques, cryotherapy, dermal abrasion and surgical interventions to remove skin tumors.

When to consult a Dermatologist?
Dermatologist can give you expert opinions and advices on your conditions. Always seek help of a dermatologist if you have any queries relating to your skin, hair and nail health.
Normal to severe skin conditions can be discussed with a Dermatologist. You can get right treatment at right time. Acne, Eczema, blemishes, moles, warts can be treated with suitable treatment plan by the experts.
Make an appointment with the doctor if you notice – Any major discoloration, rashes or blemishes that stay longer Moles that is unusual in size, color and shape Any skin growth that is itchy, scaly or that does not heal in a week
Cryotherapy with Liquid Nitrogen, Electrocautery is used for treatment of Warts, Skin tags. Painless procedures are available for both children and adults.
Keloid Therapy with Dermojet Injections, Cryocautery, Intralesional Steroid Injections.
Psoriasis, Vitiligo, Atopic Eczema.
Cosmetic surgery of unwanted Small Skin Tumors, Scars
Chemical Peeling using various chemicals for treatment of Wrinkles, Pigmentations and Anti aging of skin.
Immune related skin disorders.
Radio Surgery for removal of small Skin Tumors, Moles, Warts, Skin Tags.
Microdermabrasion for Pigmentations, Scars, Wrinkles on face, Hands.
Acne (pimple) Treatment using various techniques Antiandrogen, Chemical Peeling, Comedone extractions using IPL laser therapy.
Corn Foot and Callus Removals.
In-grown Nails Removals.
Dr. S.M.S Pillai
Dr. Sandhya Acharya