Dr. Abdul Gafoor has over 11 years of clinical experience and is a highly skilled and experienced General Practitioner. In 2010, he received his M.D. Physician from Osh State Medical University, where he underwent extensive training in a variety of medical fields. Additionally, in 2019, he received a Certificate of Completion for the Diabetes Management Course from the Leicester Diabetes Centre, United Kingdom, and a Certificate of Completion for the Gulf Diabetes Masterclass from the University of Dresden, Germany. Aside from that, he holds a Diploma in Russian Language and Basic Sciences from Kazakhstan's Kazakh National Medical University in Almaty. He has earned a reputation as a responsive listener and a meticulous diagnostician during the course of his career.
Dr. Gafoor is committed to providing excellent medical care to people of all ages and backgrounds. Working in numerous renowned medical health centers in India and Dubai provided him with a plethora of expertise. In 2013, he started working as a GP and Casualty Medical Officer at Life Medicare Centre in Kerala. He began working at Jameela Polyclinic, Dubai in 2016 before joining Aster Polyclinic, Dubai in 2017. In 2019, he worked for the iCare Clinics in Dubai, and in 2020, he served for Axon Medical Polyclinic. He has extensive experience diagnosing and treating a wide range of medical issues, including chronic illnesses and acute traumas. He believes in a holistic approach to healthcare and healing. He engages with each of his patients to develop a unique treatment plan that fits their specific needs.
Dr. Gafoor is additionally dedicated to preventive care and enlightening his patients on how to maintain a healthy lifestyle. He takes the time to get to know each patient, making them feel at ease and comfortable during their visit. Besides, he strives to provide compassionate care and attention and is willing to go the extra mile to make sure his patients receive the best possible treatment.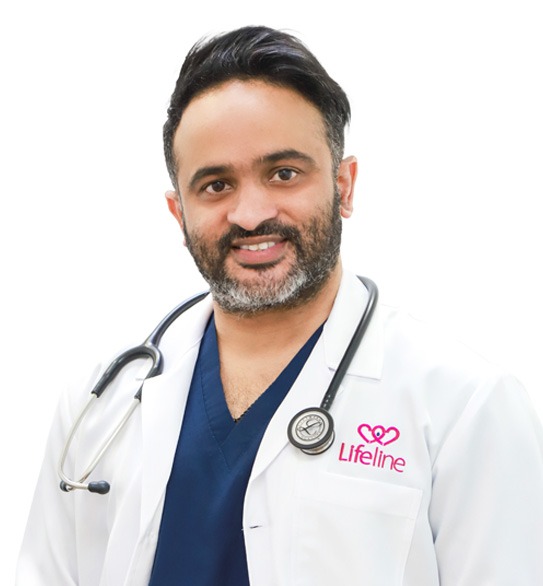 Expertise
Evaluation and management of: