Ms. Shemeena Parakkal is a highly skilled and experienced Clinical Psychologist with over 10 years of professional experience. She holds licenses from the Ministry of Health (MOH) and the Dubai Health Authority (DHA).
Ms. Shemeena completed her post-graduate degree in Clinical Psychology (MSc) from Annamalai University, India, in 2012, and subsequently earned an MPhil in Clinical Psychology with a Gold Medal from SRM University in 2017.
Ms. Shemeena gained considerable experience and skills while working at various renowned clinics, medical centers, and hospitals in India and UAE. She began her career as a Consultant Psychologist at KIMS Trust Hospital in Kerala, India, in 2012 and subsequently moved on to Human Care Foundation in Kerala in 2013. She advanced and received a position as a full-time Clinical Psychologist at KMCT Medical College in 2018.
Her career in UAE began in 2019 when she was appointed as a Clinical Psychologist at Al Ibtisama Centre for People with Disabilities. Her work at the center involved providing psychological assessment and therapy for individuals with various disabilities, including autism, down syndrome, intellectual disability, learning disability, and cerebral palsy.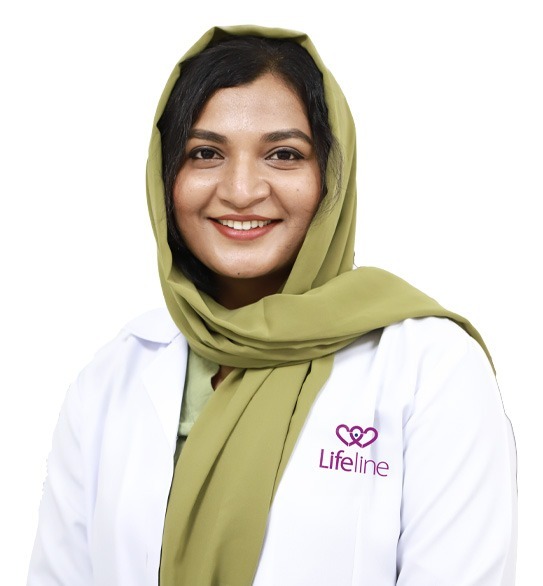 Ms. Shemeena Parakkal is a compassionate Clinical Psychologist with a wealth of experience in treating mental health issues. Ms. Shemeena is dedicated to providing comprehensive mental health services to individuals, couples, and families, through psychological assessments and evidence-based psychotherapies. She is known to provide customized treatment plans to meet the unique needs of each individual. She has worked with diverse client groups, including children, adolescents, and adults. Her expertise extends to both inpatient and outpatient settings, indicating her ability to address mental health concerns in various contexts.
She focuses on assisting individuals in coping with stress, depression, anxiety, trauma, OCD, addiction, and relationship difficulties. Ms. Shemeena's expertise lies in conducting psychological assessments to accurately diagnose and evaluate mental health conditions. She is well-versed in utilizing standardized assessment tools and techniques to gather information and develop a comprehensive understanding of her clients' psychological well-being. Additionally, she specializes in providing evidence-based psychotherapies, such as therapeutic interventions.
She strives to create and foster a welcoming, safe, supportive, and empathetic therapeutic environment, encouraging open communication and providing a non-judgmental space for individuals, couples, and families to address their concerns. She further believes that therapy is a journey of self-discovery and empowerment and that everyone has the ability to overcome obstacles and achieve their goals. Her commitment to helping her clients achieve their full potential is a testament to her passion for helping people improve their mental health and well-being. She values collaboration and actively involves her clients in their treatment journey.
As a Clinical Psychologist who is academically oriented, Ms. Shemeena remains committed to ongoing professional development, and stays up to date with the latest advancements and best practices in the field, allowing her to provide the highest standard of care to her clients. Ms. Shemeena published a paper in the International Journal of Early Childhood Special Education in 2022 on the topic "The Prevalence of Premenstrual Syndrome and its Effects on Coping Behavior, Quality of Life, and Role Acceptance among College Students." She has attended international and national seminars, workshops, and conferences on various kinds of mental health-related issues.
Overall, Ms. Shemeena Parakkal is a dedicated and compassionate Clinical Psychologist with a wealth of experience in psychological assessments and evidence-based psychotherapies. Her diverse experience, specialization, and commitment to professional growth make her a valuable resource in the field of mental health.