Dr. Jahanara Rahman is a qualified General Practitioner with more than 5 years of clinical experience. She is a dedicated physician with substantial expertise in diagnosing and devising treatment strategies for patients. She has vast knowledge in serving premier hospitals and clinics in India and the United Arab Emirates, where she provided general medical care to patients of all ages.
Dr. Jahanara received her Bachelor of Medicine & Bachelor of Surgery (MBBS) Degree from Government Medical College Ernakulam, Kerala, India in 2017. Subsequently, she completed one year of Internal Medicine Training through the Joint Royal College of Physicians, under the United Kingdom Training Board. She is BLS and ACLS Certified as well. Dr. Jahanara has presented various papers at college conferences on a national scale. She is also an excellent communicator, a specialist in patient care, knowledgeable in emergency management, and skilled in Telemedicine and EMR.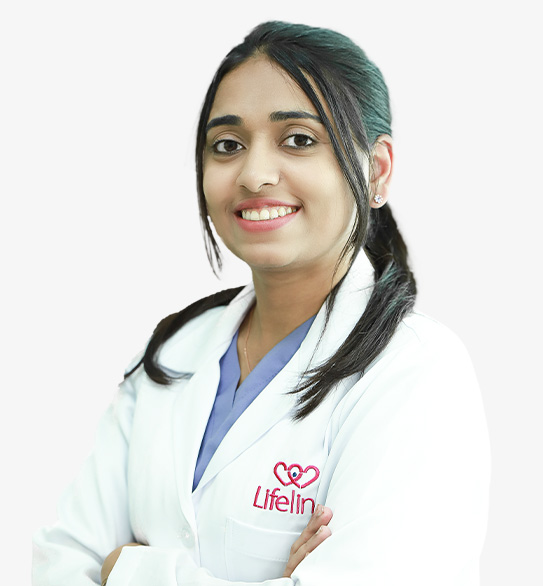 She began her career as a Casualty Medical Officer at Arogyalayam Hospital, India in 2019. Here, she learned how to quickly stabilize emergency cases, conduct CPR, perform EKGs, and provide patient education. In 2020, she advanced to become a General Practitioner at Kunnumal Pulse Clinic and Diagnostic Centre in India, where she became an expert in general outpatient management, first aid treatment for burns and injuries, referring patients to respective specialists, counseling patients on preventive care, and primary care management. She joined Tata Health as a GP in 2021, where she excelled in telemedicine and computerized medical records.
Dr. Jahanara began her professional career in the United Arab Emirates in 2023 at Dr. Abdul Latif Clinic in Dubai. She provided primary care services, internal medicine case management, and patient counseling and education. She is currently an Internal Medicine Trainee at Aster Hospital Al Qusais in Dubai.  Dr. Jahanara is a true academic who wants to advance in her specialty for the benefit of her patients.
She is dedicated to remaining current with the most recent advances in medicine and often participates in medical events, conferences, and workshops. Dr. Jahanara interacts closely with other physicians to ensure her patients receive the best possible care. Additionally, she has extensive knowledge of multiple specializations, which helps her deliver complete treatment and care.
Dr. Jahanara strives to provide compassionate and personalized care to her patients. She attempts to establish a solid, trusted, and long-term relationship with her clients by patiently listening to and understanding their needs.
Expertise
Evaluation and management of: