CNS –   Centre for Neurobehavioral Sciences
"Mindful Of Mind's Well–Being"
CNS, Centre for Neurobehavioral Sciences at Lifeline Healthcare Group is conducting a conference on
"Mental health in children post-pandemic scenario"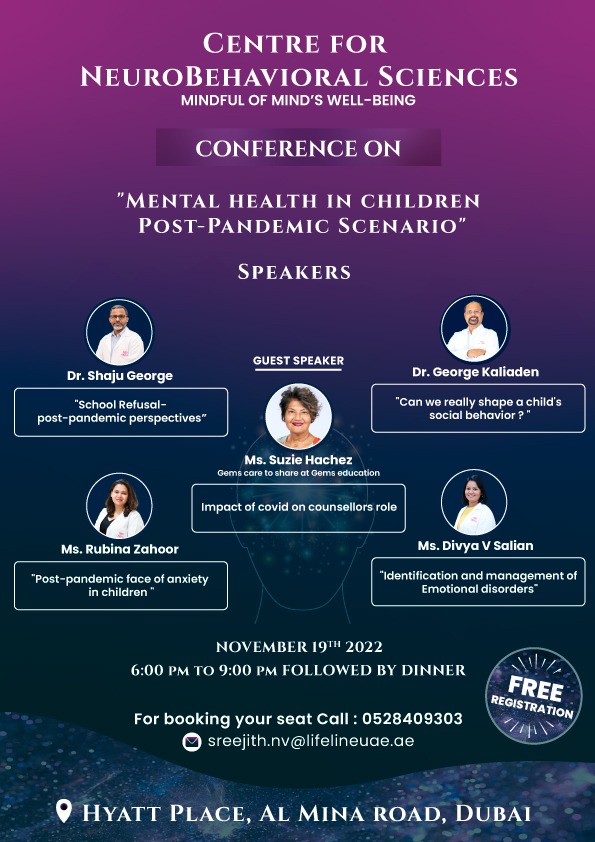 Dr. Shaju George (Head of the Department) is a famous and well-experienced Specialist Psychiatrist with 20 years of clinical expertise in Psychiatry. Acquiring an MD from India, he holds a specialist certification in Aviation medicine from Flying Medicine, UK. 
Dr. George Kaliaden has over 25 years of clinical experience in psychological consultation, therapy, and counselling. His background includes studies/research at IIT Bombay, the University of Texas at Arlington, and the University of Pennsylvania.
Ms. Divya V Salian is a CDA-licensed Psychologist, with more than 8 years of clinical experience. Ms. Divya obtained her M.Phil. from The National Institute of Mental Health and Neurosciences (NIMHANS).
Rubina Zahoor is CDA licensed Counselling Psychologist. She obtained a master's degree in counselling psychology from Christ University, India. She has more than 10 years of experience working in counselling psychology.
Our Guest Speaker
Ms. Suzie Hachez, A native of Belgium and the leader of the GEMS counselling network, has over 38 years of expertise in psychology. 20 years of experience in special education (has created the CIS Inclusion dept. ), 11 years of experience as a school counselor. Suzie Hachez is the honored recipient of the Mariamma Varkey award and has played a crucial role as a professional inside GEMS. She is an enthusiastic educator who aspires to change the lives of children. Suzie does this while bringing a lot of knowledge and a long list of credentials, including The Listening Program, CBT, and DBT.