Best Neurologist in Dubai
The neurology division focuses on the identification and treatment of problems of the nervous system, which includes the brain, spinal cord, muscles, and peripheral nerves.
Neurologists are medical professionals who identify and address issues with the nervous system and the brain. A Neurologist is responsible for managing and treating conditions, illnesses, and injuries involving the neurological system. The neurology department diagnosis and treats simple to complex neurological diseases and provides the most precise medical therapy to each condition. We use a multidisciplinary approach to diagnose and treat neurological ailments at the department, offering individualized care to patients with conditions like stroke, epilepsy, movement disorders, sleep disorders, and tumours of the brain, spine, and nerves.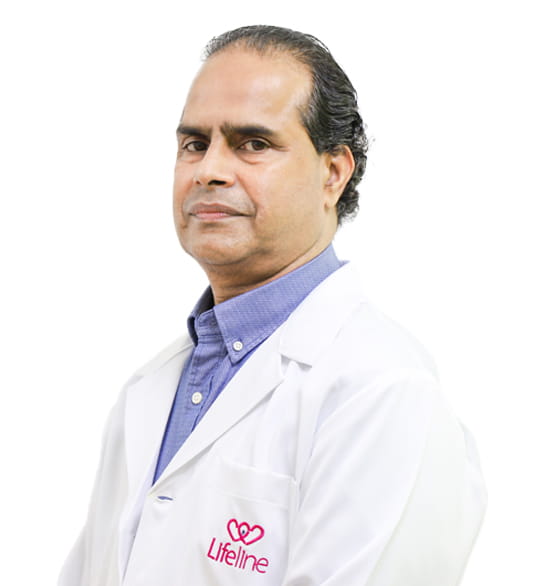 Dr. Sasikumar Kallivalappil
With the use of highly advanced technologies, the neurology department at Lifeline Clinic offers promising medical treatment to adult and paediatric patients for neurological illnesses. With proper assessment and a competent treatment strategy, we hope to improve the quality and functioning of life for those with neurological illnesses. To ensure specialized care, the neurology department offers minimally invasive, image-based techniques and procedures for patients suffering from neurological problems.
Patients with problems of memory, behaviour, cognition, and other neurological issues are treated by experienced and qualified neurologist. 
Some of the neurology subspecialities include – Paediatric Neurology, Neurological developmental disorders, palliative care neurology, Autonomic dysfunction, neurocritical care, neuropsychiatry, movement disorders, neuro-oncology etc.
What are treatments done by Neurologists?
A neurologist can also help people who experiencing issues with their senses, such as touch, vision, or smell. Nervous system abnormalities can occasionally lead to problems with the senses.
Neurologist manages and treats problems with